Nuopets Tassels Teasing Cat Stick 3 pcs
【Ideal Toy for Cats】This cat teaser wands are the perfect toy for exercise and mental health for your cat. It is the perfect way to tease and entice your cat to play, with tassel and bells, your lovely cat will have tons of fun chasing, pouncing, and biting by this kitty wand toy. This interactive cat wand can arouse cat interest, so you two can have a happy time and promote the relationship with each other.
【Excellent Quality】 Made of high-quality tassel and pompom splicing, soft and resistant to bite, NEVER hurting the cat's teeth and cat's claws while playing, also preventing swallowed and help to brush pet's teeth. Cute beads and colored bells collide to stimulate the cat's curiosity and make it fun; The cat stick with colorful sequin strips filled is also can attract cat's interest, which is beautiful and not easy to break, kittens favorite!
【Safe and Healthy】 The cute cat wand toy is made of high-quality acrylic tube + polyester wool ball fabric, which is safe, non-toxic , durable and eco-friendly. Unlike other cheap cat toys, our cats wands are more intimate and safer, even if you're not around, you can place this toy anytime, anywhere, without worrying about cats swallowing and health. It will help to increase exercise & keep fit healthy, great way to keep your cat fit and happy!
【Perfect Gift for Cats 】Package including 3pcs with different  colors. This cat toy is the ideal gift for your family or friends who have cats, or your own cat. It's the best choice for Christmas, birthday, new year and all holiday gifts. I'm sure all of you will love it, so happy together!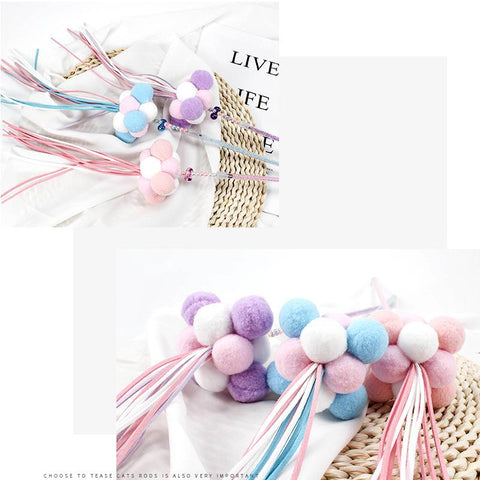 Specifications
Type: Funny toy stick
Material: Plush
Color: Purple, Blue, Pink
Size: Length: app.35 cm/13.78 in(No tassels);
Quantity: 3 pcs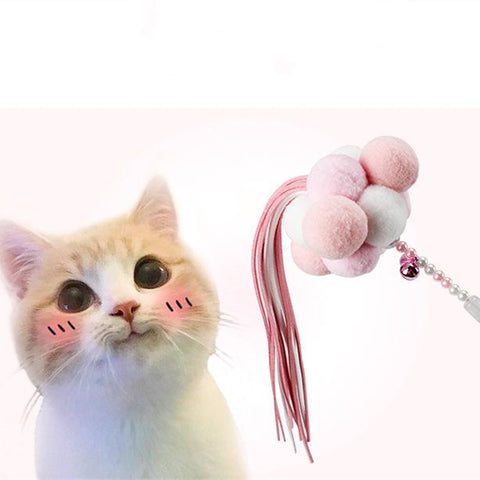 【100% Satisfaction Assurance 】We focus our mind on pet supplies, our mission is to let all pet owners enjoy every second with their pets! If you have any questions about the product, please feel free to contact us so we will help you to solve it within 48 hours.
23234234232342342323423423